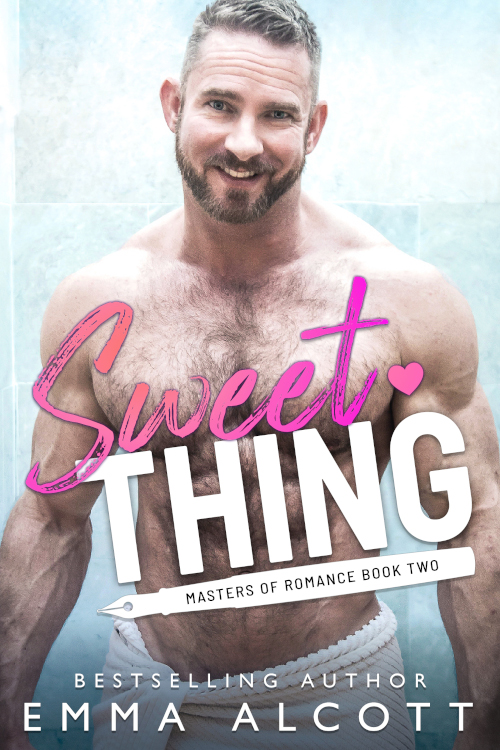 Buy the book:
Amazon
Add on Goodreads
Series:
Masters of Romance #

2
Release Date:
September 30, 2021
Patrick
My name is Patrick Neumann, and I have the world's worst-kept secret—I'm in love with my boss, Aaron (aka: Nyx), and everyone knows it but him.You'd think an award-winning romance author would be able to spot his own happily ever after a mile away, but nope. Aaron is clueless. I could show up on his doorstep in a jockstrap with a rose clenched between my teeth and he'd still think I only want to be friends.Which is why I've written myself my own perfect happily ever after and published it under my new secret pen name: Miller Night. It's seventy thousand words of sweet, steamy romance starring thinly veiled versions of me and Aaron—all my deepest, darkest desires spelled out right there on the page. I haven't been subtle about it, but I'm not worried. It's not like Aaron will read it. And even if he does, he's so oblivious he'll never figure out that Miller is really me.
Nyx
I've read a lot of romance novels in my life, but the one I just finished is the most perfect of all. It's swoony, sweet, indulgent, and so hot the words almost melt off the page. It's so good that if I didn't know better, I'd think it was written just for me.
Best of all, it's helped distract me from the feelings I shouldn't be having for my cute blue-haired personal assistant, Patrick.
I don't know the author who wrote it, but I need to be his friend.
Miller Night, watch out, because I'm going to make you mine.
Sweet Thing is the second book in the Masters of Romance series, where romance authors don't just write about happily ever afters—they live them. Get ready for love, laughter, and some serious steam. No cheating and no love triangles, guaranteed. This boss/employee, friends to lovers, secret identity rom-com romp of a book can be read as a stand-alone, but it's way more fun to binge them all. Which author are you most excited to see get his HEA?
Did you know that Sweet Thing has a BONUS story "Sweet Dreams"?
After leaving the Cosgrove family dinner, Nyx and Patrick get up to some "funny business" on the way home.

A steamy bonus chapter to Emma Alcott's Sweet Thing (Masters of Romance Book 2)!
You can get your copy here.
Also in this series: